Through each Community Center, we run a range of projects to strengthen the resiliency of the community and its various segments—youth, women, and seniors. Some of the initiatives are the same across centers, while others are based on the specific needs of that community.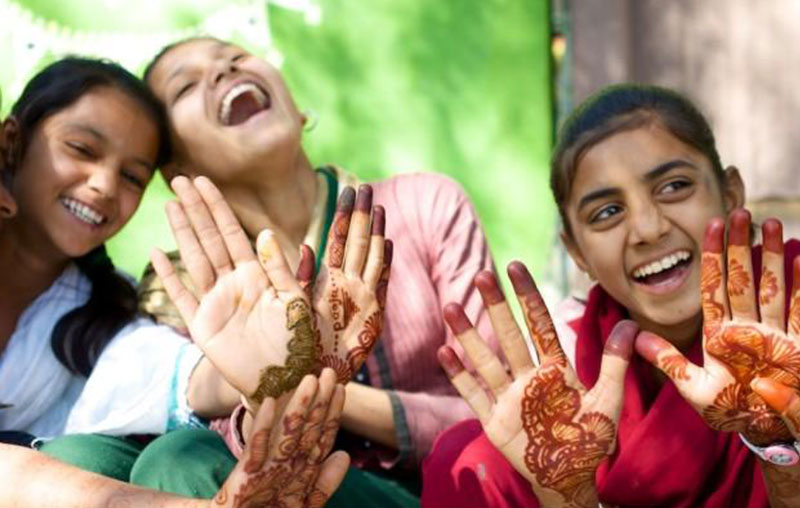 The Hope Project aims to provide adolescent girls in marginalized communities with the hope and tools to overcome the wide range of challenges they face from gender disparity and social restrictions to personal safety while encouraging their education and life goals. We offer the girls a safe space to gain exposure and life skills as well as engage in activities to nurture their self-awareness and confidence. They also learn about personal hygiene, female health and menstruation while having access to adult female mentors with whom they can share openly. The girls receive a nutritious snack at every gathering.
Udaan (which means "to soar") was started in February 2018. It targets a specific group of girls in Ramapir no Tekra who dropped out of school and MS programs due to parental pressure to marry early. We began by interacting with the parents to build trust and understanding and then started the Udaan program right next to their homes to ensure that the girls could attend daily. The program is focused on preventing early marriage, strengthening the girls' education, fostering their confidence and self-awareness and imparting skills that will support their life journey.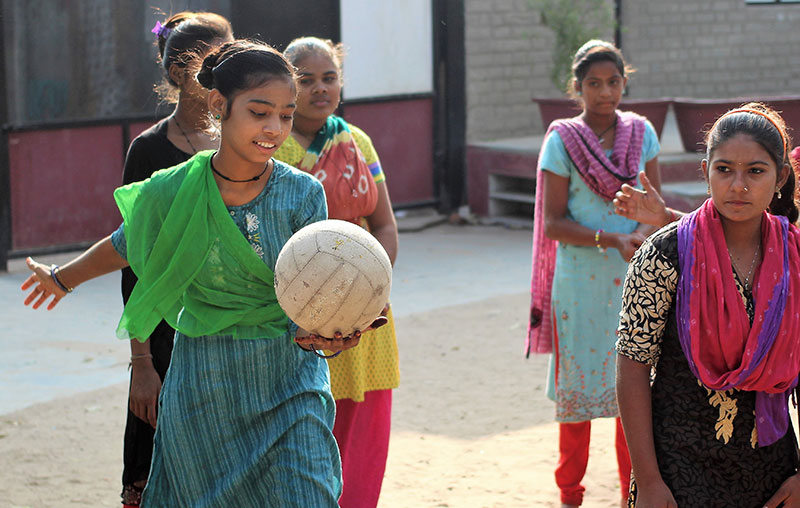 Through monthly Yuva Mitra Mandal gatherings, Manav Gulzar runs activities to encourage young men to reflect and foster a change in attitude and behavior around lifestyle, addiction, relationships and more. This initiative provides a platform for expression, dialogue support and helps the men cultivate intentional growth into their own lives while they become more positive, active members of their households and community.
Repicking sisters collect recyclable waste from the streets and sell it for sustenance. As these sisters play an integral role in waste management and recycling and provide a silent but essential service to society and the environment, we call them Paryavaran Mitra, or Friends of the Environment. Paryavaran Mitra, which started as an MS project and has grown into an independent sister-organization, aims to give ragpicker sisters dignity and respect while focusing on increased wages, improved quality of life and their holistic development.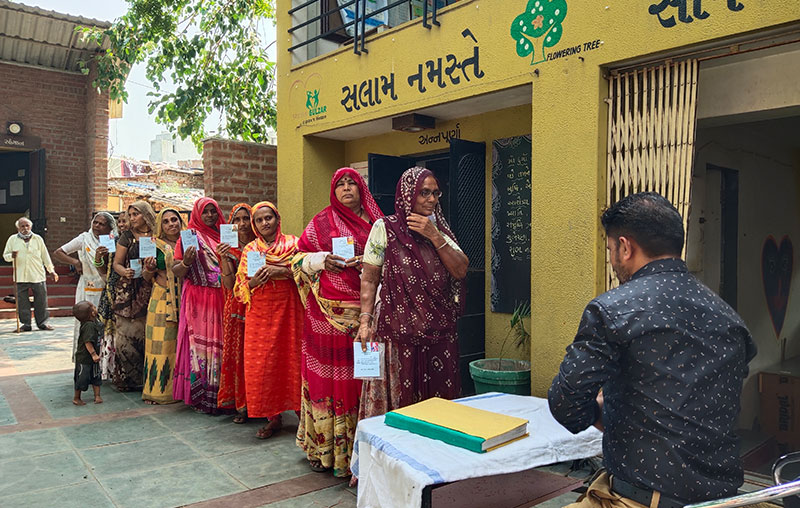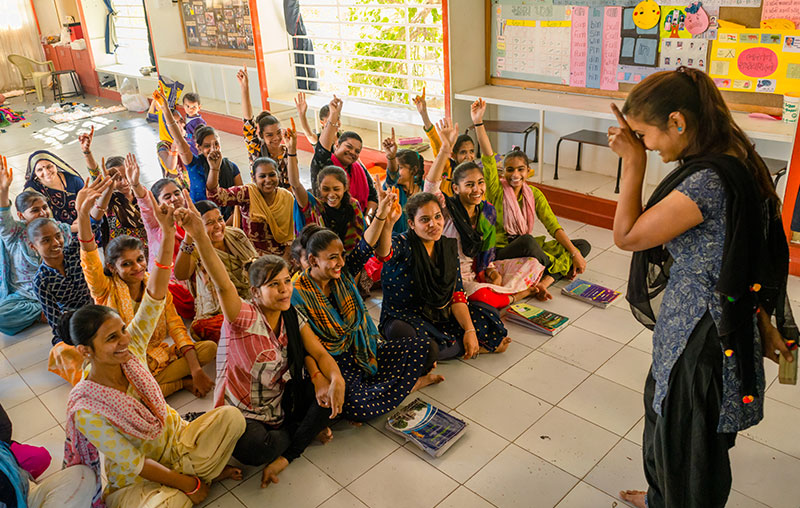 We launched the Shakti Center, an extension of the Manav Seva Community Center, after identifying the need for a dedicated space for the women and adolescent girls of the Shankar Bhuvan community. Shakti Center programs focus on health awareness, upskilling, confidence-building, self-care and peer support. We also organize various workshops, skill training and health camps. The intention of Shakti is to give these young women skills, tools and motivation for them to stand on their own feet and define themselves beyond their roles as a daughter, wife and mother. Through their involvement with Shakti, we have witnessed positive changes in the women's attitude and confidence and hope it ripples into the community.
This initiative supports women, especially daily wage members, to better manage their economic resources and make financial decisions that benefit themselves, their families and their communities. Our experience dictates that economic independence is one of the foundation stones for the path to gender equality. We integrate this program with knowledge-building around personal finances, health and other relevant issues in the women's lives.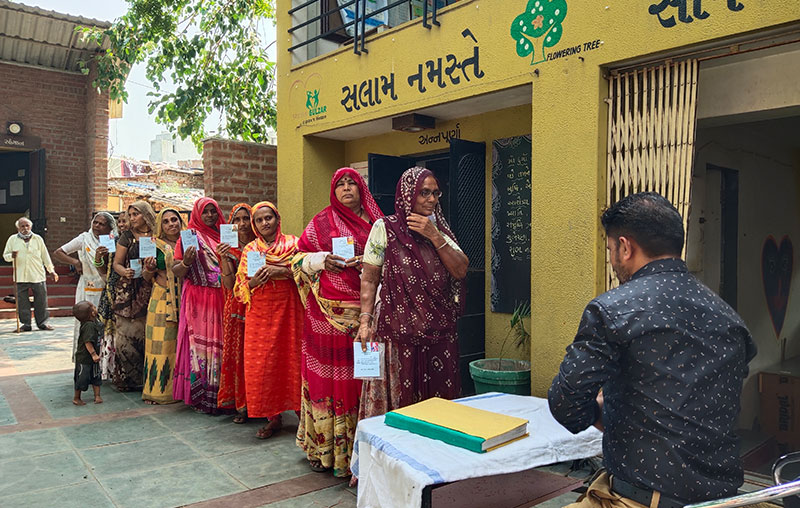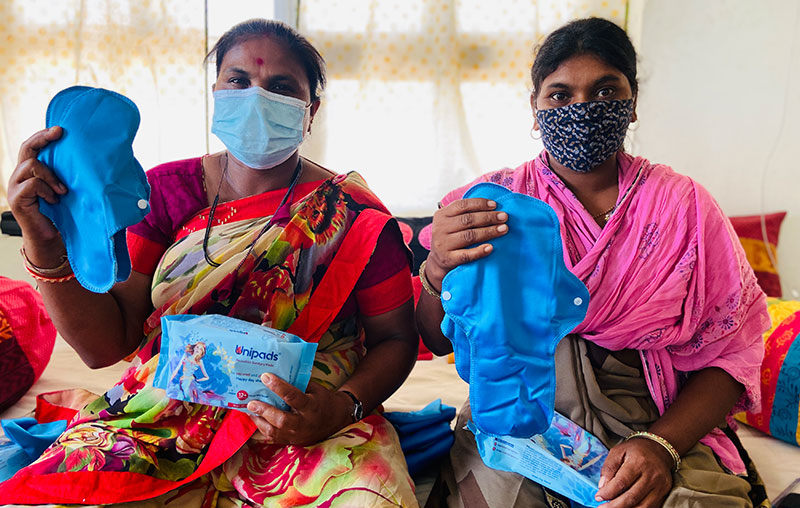 Project Comfort (Menstrual Health and Hygiene)
Menstrual hygiene is still a huge challenge in India, where 23% of the girls drop out of school when they start menstruating. A large percentage of women in low-income communities do not use sanitary pads and are prey to many diseases and infections. In recent time, many women have started using disposable pads, which are not biodegradable and pollute the environment.
After a period of preliminary research, in 2019 we partnered with UK-based Women and Girls Charity to provide reusable pads along with instructions to girls and women. During the year we arrange camps to increase awareness about menstrual hygiene. After extensive field surveys, we have distributed more than 5000 sets of reusable sanitary pads to women and girls in our community centers. This has improved their menstrual health considerably and saved the environment from disposal of used pads.
Vadil Vatsalya (Elderly Care)
This senior care program was established to bring love, compassion, support and community to the elderly. This weekly program includes bhajans (spiritual songs), satsang (meaningful discussions), and a nutritious meal. We also organize annual excursions and provide long-term health care and medications to those who need it and welcome them to join in festival celebrations and events. Volunteers often offer acts of love and kindness through massage therapy, yoga sessions, nail and hair care and more.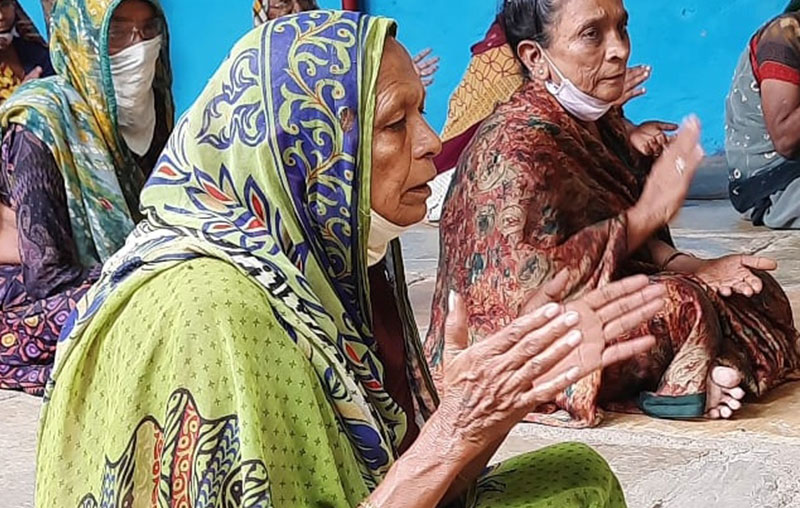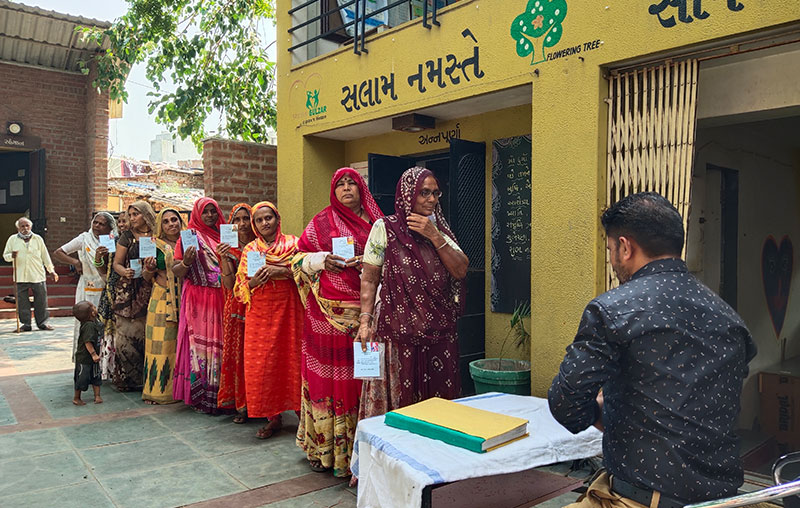 Nagrik Kalyan Seva Kendra and Right to Education
In India, the government declares hundreds of social welfare schemes, but due to a lack of knowledge and accessibility compounded by illiteracy many are unable to benefit from these opportunities
Through the Nagrik Kalyan Seva Kendra initiative we provide guidance and assistance to community members in filling out forms, preparing official documents and getting necessary to fully avail various government services. As a separate initiative, every year, we help families fill out Right to Education (RTE) forms to help 1st grade children get free admission into quality private schools.
Vyasan Mukti (Alcohol Deaddiction)
Although Gujarat is a dry state, illegal, locally brewed alcohol is easily available. In low-income communities more than 50 percent of the men consume excessive amounts of alcohol. Under the influence, these men are more prone to instigating domestic violence and abuse. The men also suffer from deteriorated health and early death. The Vyasan Mukti program uses the tools of consistent counseling, group meetings, peer support and personal accountability to help men work through their alcohol addiction and strengthen their families. For those interested, we help admit them into a local deaddiction clinic.