Volunteer with Manav Sadhna
Embark on a Journey of Transformation
Over the last 30 years, hundreds of volunteers from India and around the world have served with us, giving their time, talent and love to empower communities. They volunteer with us anywhere from one month to countless years. In return, volunteers have a meaningful and transformative experience connecting with the community, learning more about themselves and experiencing the profound joy of helping others. They become part of a global family connected by these shared experiences and the spirit of service.
We are grateful for your consideration to volunteer with MS. The volunteer experience at MS is as much about the inner journey as it is the service journey. We believe that every small action done with love gradually leads to meaningful change and transformation—around us and within us. We encourage volunteers to slow down and take the time to connect with the communities and engage in deep, meaningful relationships.
"The best way to find yourself is to lose yourself in the service of others."
We try our best to place volunteers in roles based on their interests, but placement is dependent on the needs of the organization at the given time. Volunteer roles include, but are not limited to :
Volunteer Requirements & Application
We thank you for considering volunteering with MS. To participate in our volunteer program please note the following volunteer requirements: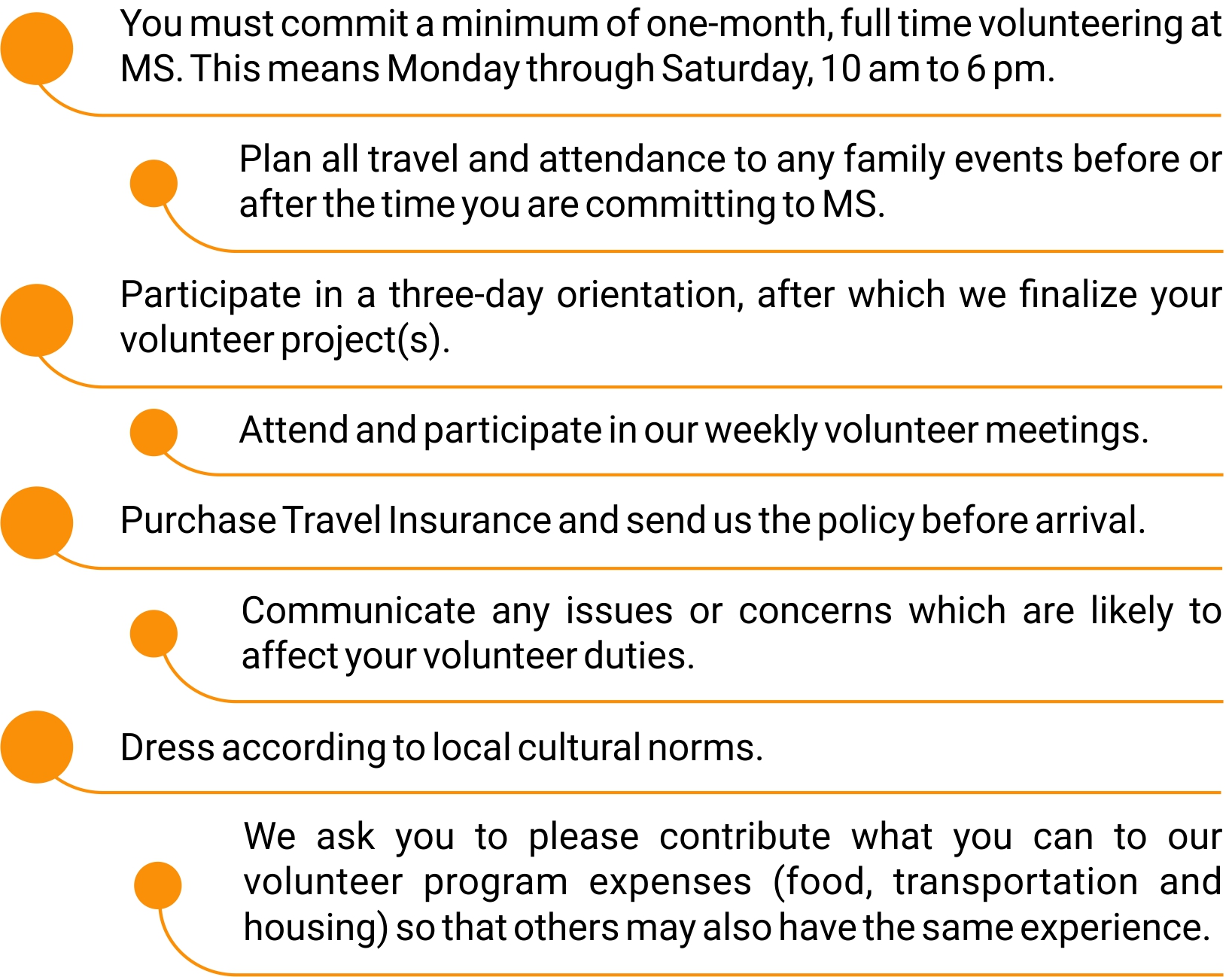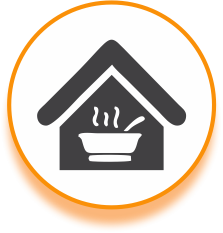 We provide simple volunteer housing, located close to the main MS campus. The volunteer homes are separate for men and women and have equipped kitchens.
We prepare a simple vegetarian lunch everyday (except Sundays) for our volunteers at the MS kitchen. Volunteers must arrange for their other meals.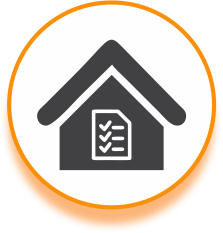 Absolutely No Alcohol or Drug Use Permitted
Observe Vegetarian Diet (at MS and Volunteer Housing)
Live Simply and Be Mindful of Others
Be Responsible for Daily Housekeeping and Cleaning of Volunteer Accommodation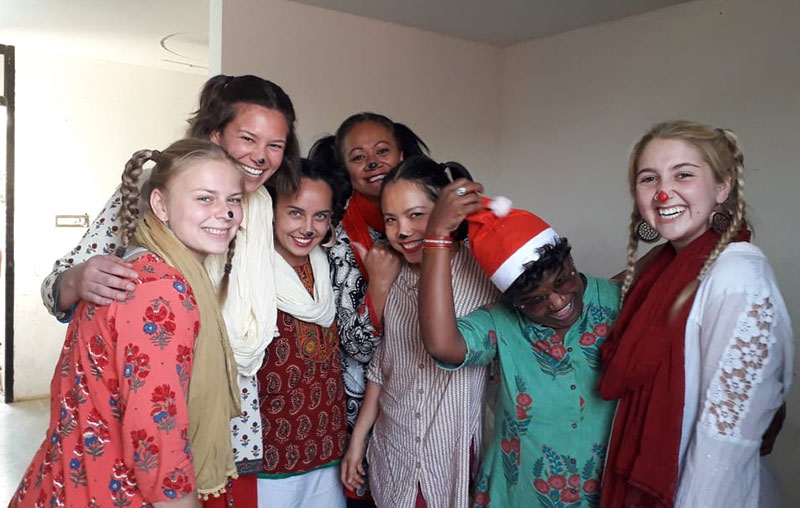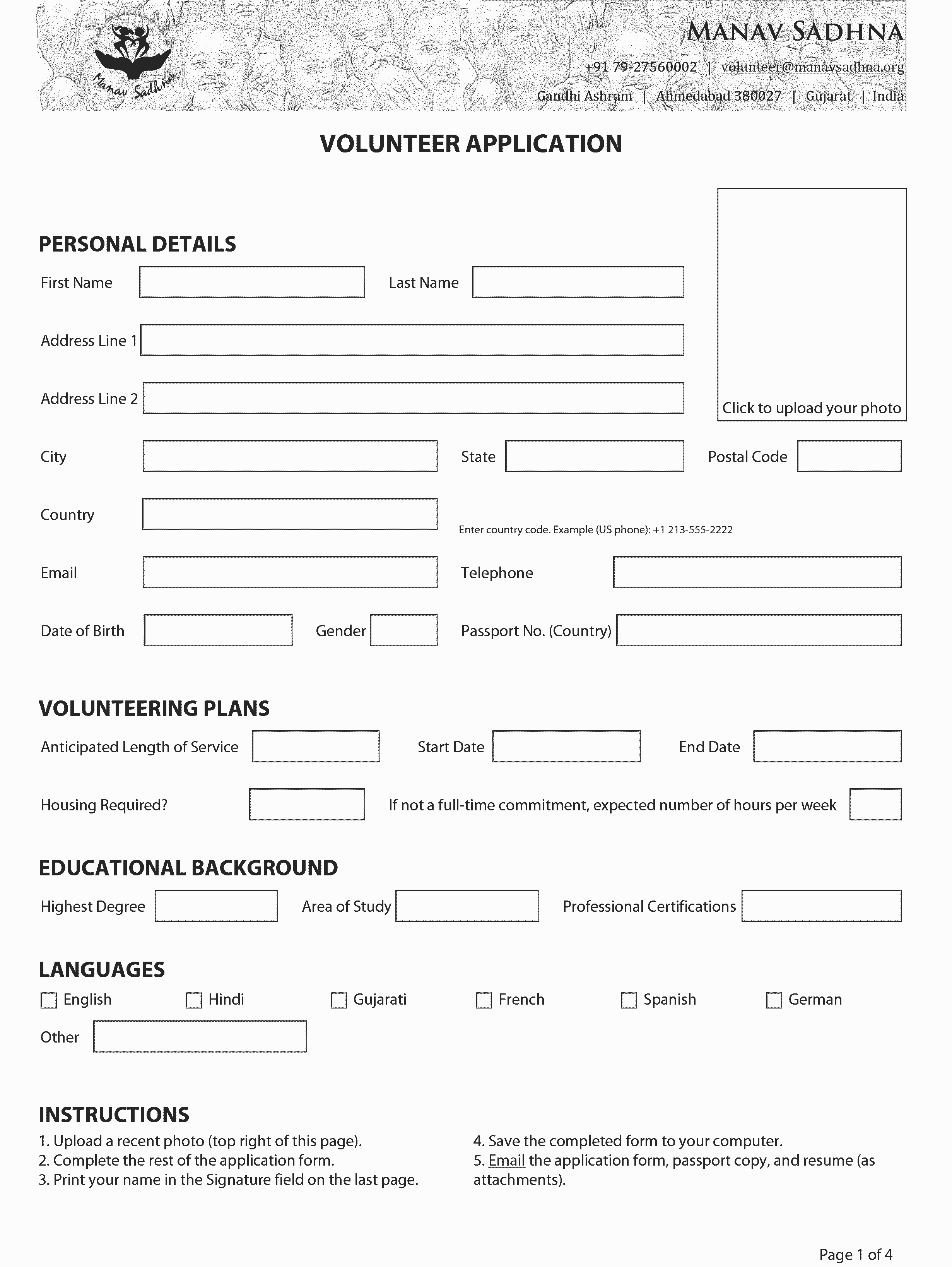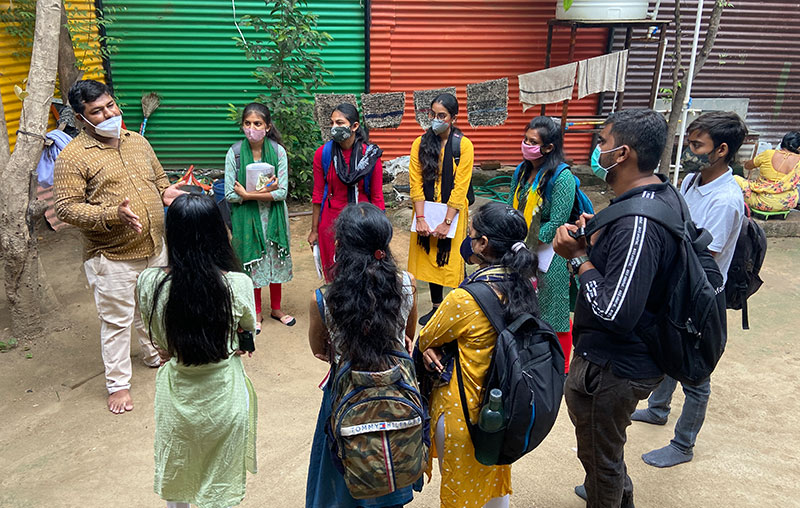 Get Your Team Volunteering Today
Schools, Institutions and Companies
Do you want your students or team to grow in empathy, mindfulness and service? Do you want to help them find more meaning in their lives? Do you want to contribute to building a more compassionate, peaceful and just society? If yes, we welcome you to join The Human Transformation Project (THTP), in collaboration with Tarsadia Foundation.
Launched in 2021, based on 30 years of insight and expertise in volunteerism, we have curated this initiative to engage local youth and young adults in service as a means for inner and social transformation. The program nurtures connectivity and empathy, builds character and perspective and helps bridge the gap between different socioeconomicbackgrounds. It is open to local schools, universities and corporations and includes an orientation, grassroots volunteering, interaction with leaders from the field, reflection sessions and a debrief. To get involved or learn more, please contact us at thtp@manavsadhna.org.
"From the second I walked into Manav Sadhna, I felt love and positive vibes surrounding me. Every day I got to spend time with the most beautiful souls, whether they were the teachers, kids, other volunteers, or staff of MS. After one year I got so close and attached to all of them that it made saying goodbye really hard. Learning from all of you helped me to grow into a stronger and more compassionate person. I am so grateful for this year and I am full of love and joy. I will carry all these special moments and memories in my heart. I will miss this place, but I will be back."
Jasmin Khal
"My time at Manav Sadhna has been one of the most intense, humbling and enlightening experiences of my life. I came to learn so many things about myself, but most importantly about the kindness of human beings, and how to utilse this beautiful attribute to understand and make the changes required in the world I wish to live in."
Fernando Grajeda
"Manav Sadhna and the Earn N Learn initiative hold a special place in my heart. I not only got the opportunity to explore and learn about the integration of art with social development, but I also got to witness and learn what it truly means to be a part of a values-centric community service organisation. My experience was wholesome, enriching and humbling. I am grateful to MS for welcoming me into their community."
Sudiksha Patil
"What an enriching experience it has been! Six weeks have gone by so quickly with lots of exploring, both in the Manav Sadhna ecosystem and in Ahmedabad as a city. I have been embraced by the loving arms of MS and am leaving with a bigger heart as a result…I am inspired to bring the MS way to other parts of the world!"
Chi Phan
"It is hard to describe how incredible the last month has been here. I worked mostly at the Shakti Center (Manav Seva), and the entire experience was beautiful. These girls at the Shakti Center had so much energy, positivity and kindness to share not only with each other but with anyone with whom they interacted. The work Manav Sadhna is doing every day at every center is truly inspirational, and I am beyond thankful to have been able to immerse with the team and experience their work firsthand. Thank you to the staff, teachers and all the children. You all welcomed me with open arms and tremendous love. I hope to continue my work with MS in the future and can't wait to see how far organization and its children go."
Deesha Desai
To become part of the MS family has been one of the most gratifying and rewarding experiences of my life. The extraordinary generosity, sincerity, openness and kindness which is displayed by everyone at MS creates a bubble you find difficult to leave. I'd come to MS to look help build Bholu 11 as part of the Anganwadi Project, but I found myself involved in so much more, and loving every day of it. The process of creating friendships and working every day in tandem with the amazing community, has left me overwhelmed by the generosity and kindness of those who have so little, giving so much. I had planned to stay a couple of weeks to a month, however this somehow morphed into 3 months… and even now I feel I am just getting started! The experience, friendships and spirit gained from these past months has left me with the desire to return here as soon as possible. In India there is 'no sorry and no thank you'… but thank you anyway Manav Sadhna and all the wonderful people there.
David Heymann, Volunteer from TAP
"My three months in Manav Sadhna's volunteer program have been unlike anything I have ever experienced and its hard to imagine I will ever witness so much again…It was truly an honor to work on an MS documentary and I was blown away at each story of internal and external transformation. MS doesn't change people or communities; it inspires and gives support for people to change themselves. And once that seed is planted, each person can go on and continue to inspire change."
Jenny Love