Over the years we, at MS, have been expanding our Livelihood and Skills Program as we find meaningful ways to empower community members to earn with dignity and respect. The program consists of three categories: skill training, income-generation projects and livelihood support through loans.
Women and Skill Development
We foster skill development in ways that can translate into home-based work or small businesses for women who are eager to work, but not permitted by family to go far from their homes to do so. These projects help women generate income from home while also balancing family responsibilities. And once a woman begins to earn, her standing in the family also increases. The following are such initiatives:
More than 1000 women of all ages have been certified through the Tailoring Certificate Project, which has been running for more than a decade. Each course runs around 3 months and covers hand stitching, machine stitching and pattern cutting. About 60% of the women who complete the course earn by tailoring from home.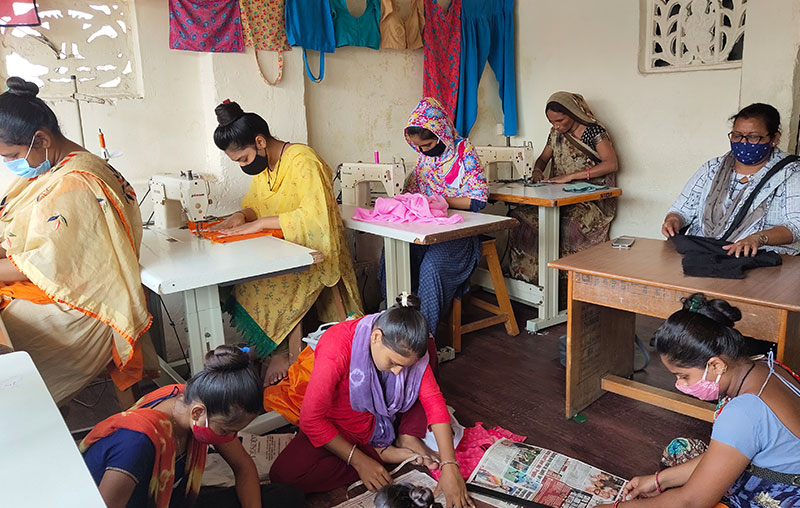 In collaboration with Dreams Foundation, MS provides sewing machines to women who want to start their own business but do not have the initial capital. Depending on the situation, it can be either a loan or a grant. This year we have supported 35 women with Sewing Machine loans.
Collaboration with Full Circle: Zero Waste Products
MS works with Full Circle, an initiative that upcycles waste fabric into high quality home furnishing and household products, to train our women to make products such as cloth bags, yoga mats, cleaning products, and more and to be sold. The women have the choice to work from one of our tailoring centers or from home. The project also supports the environment by recycling waste fabric from textile factories and tailors, substantially decreasing the amount of waste that ends up in landfills.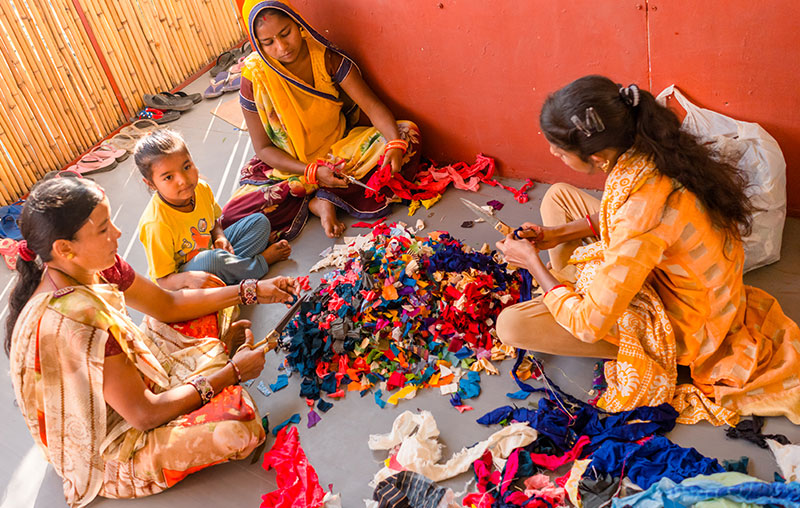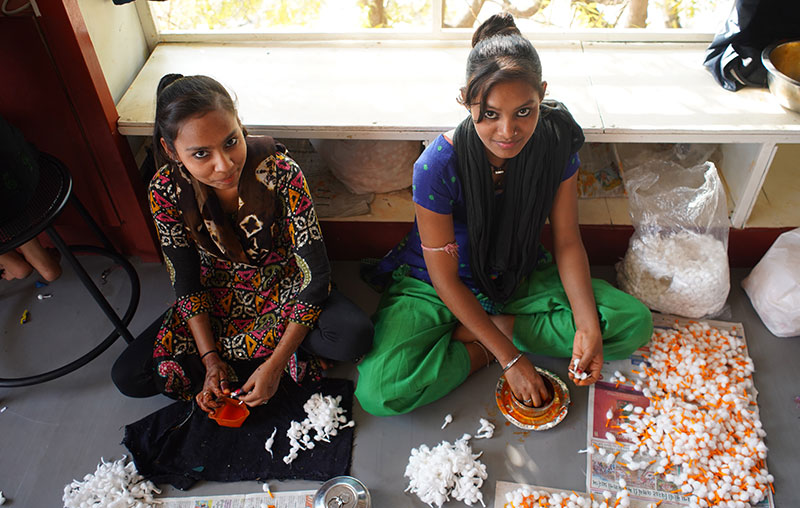 Through this program, we teach women how to use machines to make cotton wicks (divet), which are a household product used to light lamps. We have partnered with a local company who provides the raw materials and purchases the final product. Women can start earning almost immediately and set their own schedule as per their availability. This project is especially helpful for women who need to earn but have no employable skills.
After the 10th standard, many children drop out of school and have no proper training or skills to secure sustainable employment, struggling to meet their daily needs. We facilitate four month-computer courses for a monthly token fee offering classes in Microsoft office, Desktop Publishing, Tally, and computer fundamentals as well as a special course for illiterate students in basic desktop publishing. Approximately 200 students graduate from the computer program every year.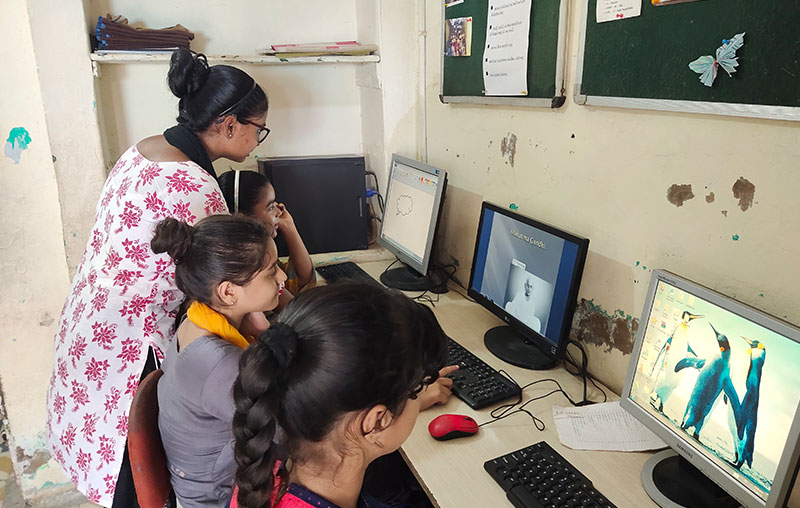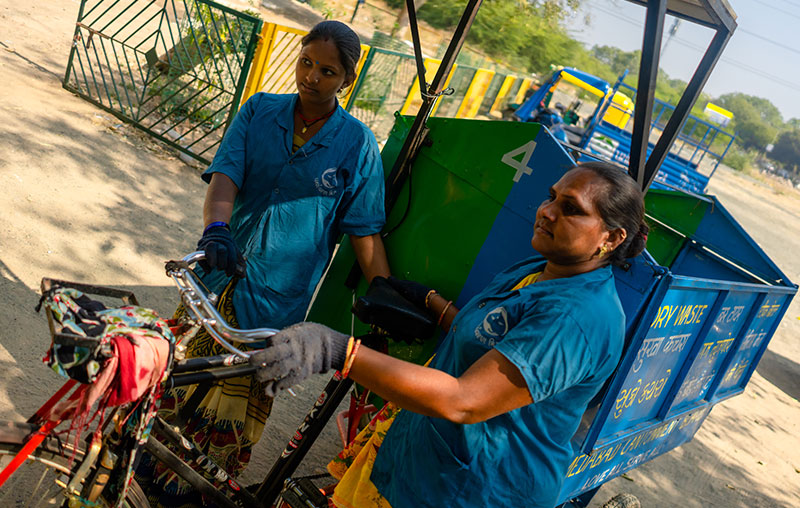 Paryavaran Mitra focuses on the holistic development of rag-picking sisters by improving their working conditions, increasing their daily earnings and changing social perception towards their contribution to society. To ensure the sisters get fair rates, Paryavaran Mitra runs independent scrapyards (pitha), where the women also segregate dry waste, grind bottles through machines and make compost out of wet waste—all value-addition processes that increase income. The profit is shared by the sisters. Furthermore, we have begun an initiative to advance the women from being ragpickers to waste managers and entrepreneurs who run their own scrapyards. Alongside these efforts, we also endeavor to educate the public about the role and contribution of ragpicker sisters in recycling waste and keeping our cities clean.
Earn N Learn serves vulnerable children by supporting their education (learning) while using the platform of arts and crafts to enable them to earn for a few hours a day in a healthy and loving environment (earning). The children make products from handmade paper, which helps supplement the earning of the child's family and prevents the parents from sending their children for work, which would require them to drop out of school. Through this platform the children also develop life skills, work ethic, and financial literacy in a safe and child-friendly space.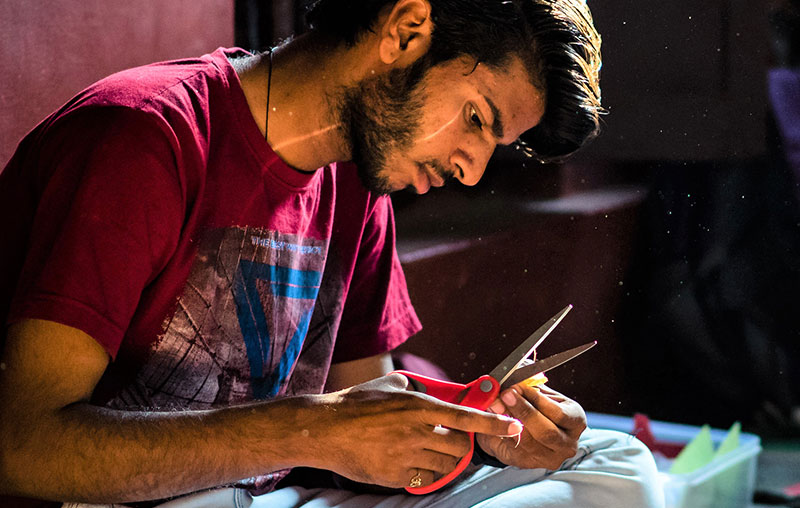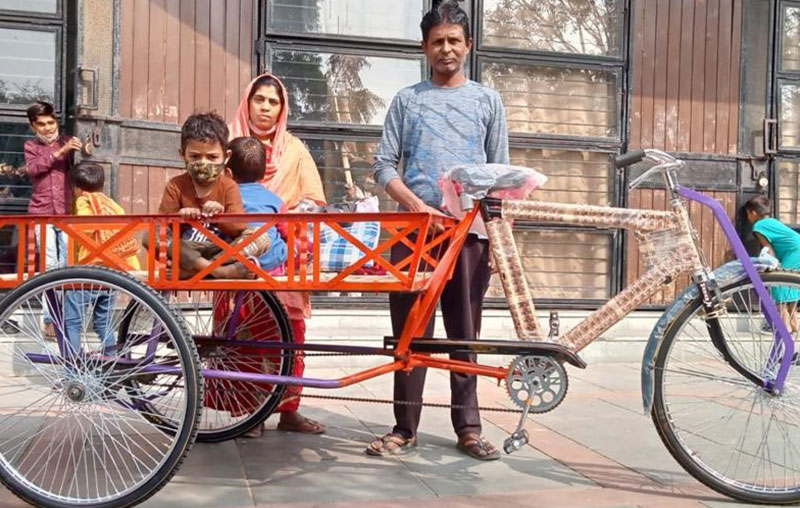 The Pedal Rickshaw Project
A collaboration between MS and Dreams Foundation, the Pedal Rickshaw Project has two prongs—design of rickshaws and interest-free loans. In Ahmedabad, more than 30,000 people (mostly men) support their families by driving pedal rickshaws used to transport goods or set up small shops to sell products such as vegetables and toys. However, the existing design of the pedal rickshaw places undue stress on the body. We improved on this by amending chain length, bearings, shock absorbers etc., decreasing both required maintenance and the amount of exertion required by the driver. Furthermore, many of the drivers rent rickshaws for about 40 rupees a day, approximately rupees 15,000 a year. And yet, the cost of buying a pedal rickshaw is only 8,000 rupees. So, we provide the driver with an improved pedal rickshaw on loan, letting them pay the same amount in monthly installments as they would in rent. By the end of the year, they own the pedal rickshaw.
Loans for Livelihood Support
In the field we come across many enterprising families who are struggling to survive owing to insufficient means of livelihood. After shortlisting genuine aspiring individuals, we connect them to Dreams Foundation for interest free seed capital to start their entrepreneurial initiatives. We have supported more than 70 families this year with livelihood loans, which we believe are essential in helping them rise above poverty.